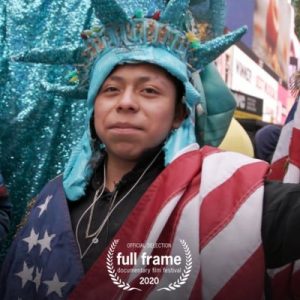 Five Years North is a deeply moving, expertly produced film taking place in the world of U.S. immigration as seen by a young illegal immigrant ('Luis') who ended up in New York City, and as seen by Judy—a Cuban-American ICE Supervisory Detention and Deportation Officer who also lives in Luis' neighborhood.
The inciting incident that led to the film's making occurred when filmmakers Zach Ingrasci and Chris Temple met the eight-year old Luis in his home town of Peña Blanca, Guatemala, while working on another project. Filming began in New York and in Guatemala when Luis arrived in New York, in late 2017, at 16 years old, alone and without papers. Naturally, Luis faced a deluge of challenges to stay in and thrive in the United States.
The film alternates between New York and Guatemala, and between Judy and Luis. We are introduced to Judy's home life as well as her work as an ICE agent. She is candid in speaking her thoughts about ICE, yet is grateful for and committed to her agency and its work. And we are introduced to Luis's life in New York, and his family in Guatemala. The love between Luis and his family, and the pains of separation his immigration has evoked within himself and his family are palpable.
T. Griffin's original compositions effectively enhances the film's impacts on us viewers.
Five Years North is thoroughly engaging. I would happily welcome a follow-up documentary film about Luis and company.
"We hope 'Five Years North' deepens the immigration conversation and can support the incredible work of activists and organizations helping those crushed by the system."
The Filmmakers