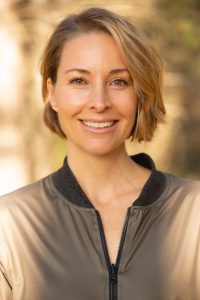 Kimberly Warner is a veteran multi-talented filmmaker from Oregon. Her current project is entitled 'Unfixed' which refers to people who have maladies for which there are no cures. By virtue of being unfixed herself, Kimberly is already producing an 'Unfixed' podcast, and will be continuing work on a stand-alone documentary film when the pandemic subsides. Being unfixed myself, I became instantly interested in her work.
When did you find yourself working in media?
Media was a path that I hadn't seen for myself. I grew up in a wellness/medically-based family. My father was a heart surgeon; my mother was a wellness counselor. I did the dutiful daughter thing and followed in their footsteps—read all the self-help books on the bookshelves, and the medical texts that my father would bring home.
I got my BA degree in pre-medicine at Colorado College, and was on-track to go to medical school, but switched over to the naturopathic track. I moved to Portland, Oregon in 2001 to go to the Naturopathic University of Natural Medicine (NUNM. )
I had a nagging feeling at that point that there was another way to heal and inspire and empower that didn't involve an office and subscription pad. And yet I didn't have a language for it. I've had a creative impulse throughout my life, but it wasn't something that I pursued actively or thought that I'd have a career in. I ended up ignoring those impulses. It was two and a-half years into my studies at the NUNM before a medical event that was the equivalent of a 2X4 on my head that said, 'You gotta get out of this and find a different path.' I didn't know what I was going to do at that point. I felt as if I was kind of dying following the path that had already been laid out before me. And I floundered for a while.
My husband now—my boyfriend at the time—loaned me his camera and said why don't you start taking pictures or taking a class at a community college. And I fell in love with photography—composition, color, the ability to tell a story within a single frame—I was just really, really on fire with this new hobby.
It escalated pretty quickly. I ended up winning a major photography contest here in Oregon, and started selling that print to dozens of people within a few months. The photo was of an evocative large surf day out in a little town in Oregon called Depoe Bay. The photo looked like this wave was swelling, taking over the little town. It had sort of a Gregory Crewdson/Edward Hopper kind of feel. I think all of my imagery at the time was leaning towards the storytelling aspect of talking about isolation and loneliness—the human predicament. I noticed early on that my photography wanted to tell stories, and that's what segued into film—because how do you tell a story better than make a film?
It was a pretty easy leap to take my imagery, and start to imagine those as story boards. That's exactly what I did for my first short film. I used hundreds of still frames and sequenced them together into what became a storyboard for my first short film. That first film was way more successful than I ever imagined. It screened all over the world. I realized this was something I don't want to stop doing.
I made a couple more short films, wrote a screenplay for a feature film that never got off the ground. Then I started realizing, 'oh, there's a business side to this, it's not just me getting to play with imagery and story.' And, of course, once you bring in the business element, things get a little complicated. So, I shifted into some filmmaking that involved brand stories. I worked for organizations—nonprofits as well as large corporations. That became a more viable way to continue this new-found love for film, and also making a living doing it.
Are you still making industrial films?
Not currently. I developed Mal de Débarquement Syndrome or MdDS around five years ago. When that happened I thought I was never going to pick up a camera again.
I was in the midst of a documentary at the time called Music Changes Everything that aimed to develop a deeper understanding of how an intensive discipline in the arts can shape the trajectory of a child's life, specifically focusing on children living in underserved parts of the city. I was in the middle of that when the MdDS symptoms started. I really thought that my career in filmmaking was over.
After I got my feet underneath me, learning to live with this wobbly sensation that MdDS causes, I did do a ten-episode series for a local organization here that empowers people to do urban gardening. That felt like getting my feet wet again in the industry. I thought it was easy because it was on my own timeline. I was shooting, editing, doing sound. I wasn't managing larger groups of people.
I do feel like that will come back into my life more and more, but I definitely have had to adapt. Before the MdDS I had a 40-person film crew working 18 hours a day. I am not capable of doing that again. I know that for sure.
Tell me more about MdDS.
It's a rare condition, not a lot is known about it, but there are thousands of people around the world afflicted with it. Many people get it after a long period of travel. You've experienced sea-legs before, like when you get off a boat, and you feel for a while that the ground is moving underneath your feet. That is exactly the sensation, except it doesn't go away. It's like the brain adapts in an unusual way. I wasn't in a prolonged period of travel before mine came on. About 30% of us haven't been traveling before the onset. I'm in what's called the 'spontaneous' MdDS category, rather than the 'motion-triggered' category.
What's this like?!
Like a large wave underneath your feet, or the floor drops out as I'm walking. Sometimes it feels like you're on a trampoline, or you're walking in a bouncy castle. Sitting still or standing still are the absolutely the hardest. I've experienced this since March of 2015.
When did you find and use the word, 'unfixed?'
I was on a pretty strong medical path most of my life. When MdDS started I was on a fix-it plan. I was obsessed with figuring out what was wrong with me and how to cure it— but I was seeing many doctors who shrugged their shoulders and said, 'I don't know what's going on,' or treated it through their specialty. So, after pursuing many thousands and thousands of dollars of fix-it plans for two years, I had to start looking at what it would be like if I lived with this forever.
In western culture, illness has long been treated, understandably, as an enemy to vanquish. Diseases are a problem to be fixed. This language pervades our health communication strategies. As a result, our culture is obsessed with fixer-upper stories, miracle cures, and pill-popping solutions. Our movies are animated by these stories, our TV medical shows dubbed, tongue-in-cheek, 'disease of the week,' and 'Chasing the Cure.' For many Americans, though, including myself, our illnesses cannot be wished away. We cannot change the channel. We are, as I say, 'unfixed.'
'Unfixed' felt like a term that could potentially embody a wider spectrum of what it's like to walk this world in a body that is uncomfortable and challenging, but also full of possibility and purpose. I didn't have a lot of models or mentors for how to do this. I was tired of trying to find doctors and trying to find solutions. And, by all means this is not me saying I will not try treatments. I am always trying to find something, but my identity isn't wrapped up in it any more. My sense of purpose isn't wrapped up in it anymore. I feel a sense of self-worth that can include living in a messy, unpredictable body.
I decided I needed to find people that could teach me these things. Certainly my self-help background wasn't going to be the place that I could look. So, I turned to people with chronic illness and chronic conditions. I realized that they have something to teach me, to teach the world. I decided to turn my camera on them. And that is how the documentary has started.
It started as the idea of a single film?
Yes. Working with my co-producer/editor Mia Allen, it started as a single film. I interviewed about 50 people. What I didn't realize was that after these hour-long conversations with human beings who were contending with their own adversity in unique and powerful ways, was that I would fall in love with every single one of them.
In the beginning I saw it as a casting process, but I quickly realized they all had something to teach. I thought obviously I can't make a film about 50 people, but I can start a video series that includes more of their voices, and then condense that down into maybe three or four subjects that we decide to film in the documentary.
After the interview process I realized I needed to expand my idea of how I wanted to share these stories. And that's how the Unfixed Community YouTube Channel started. Every month I send them a question, and within a 21 day window, they turn on their smartphones and provide a five to seven minute video and send that back to me. Myself and my editor put those together into short, cohesive videos that discuss unique topics within the chronic conditions community. Their honest, unpolished moments are at the heart of the unfixed state – the highs, the lows and everything in between.
This video-series developed an audience that I never really expected, and now you can see them on Amazon's The Disorder Channel. I hope we can continue these conversations. We planned to do 12 months all together. We have three months left, so I hope we can continue that. It's been a great way to film and gather stories during the pandemic, because all of it is in the privacy of their own homes.
This has segued very naturally into a joint venture podcast—a collaboration between myself and Martel Catalano, the executive director of a non-profit called 'Beyond My Battle,' whose mission is reducing the stress of serious illness, rare disease, and disability through emotional support and educational resources rooted in mindfulness, awareness, and compassion. Martel and I are very aligned in our vision of wanting to find ways to help people thrive within their conditions, instead of getting into the Chinese finger-trap of trying to find a cure.
There's a sense of while you are still pursuing the idealism of finding a cure, there needs to be tools, techniques, and sharing that involves acceptance and allowing relaxation around the conditions we have, so that we can mine the gems that are within the hardship.
We decided to turn Martel's 'Beyond My Battle' podcast into the Unfixed podcast. I'm now producing the first season of episodes. Each episode has two guests who will be sharing conversations around a specific topic. One person has a chronic health condition. The other is a professional working within a relevant field or facing their own, unique battle. Each episode is an invitation to lean into curiosity, compassion, and empathy, while recognizing that we can all live powerful lives despite – or because of – our challenges.
Our ultimate goal with the podcasts is to open it up outside of the chronic illness community, and discuss all different types of adversity. In the chronic conditions community we are often only talking to each other. Our goal for this podcast is to open up that conversation so that we can recognize our shared humanity, no matter the circumstance.
I started this whole Unfixed project as a search for understanding. It was a way to learn to thrive with my own chronic condition. As I came to know these inspiring, brave and creative unfixed humans, it's clear that Unfixed is so much more than my own discovery — it's a shared experience. Together, we are learning to find joy, happiness and fulfillment under any circumstance and under any condition — even during a global pandemic.
As we mine the resources within ourselves, gleaning insight from our adversity, it is becoming more and more clear that this segment of the population — those living with chronic conditions — may have a heightened version of uncertainty in their lives. But at the end of the day, every human on this planet is unfixed. Adversity is inescapable. We all can learn from the lives of those who are unable to escape pain and difficulty, who live with it every moment of every day, and are using the pressure of their lives to transform themselves into more virtuous, kind, resilient and compassionate human beings.
What about the eventuality of a stand-alone 'Unfixed' documentary?
The feature documentary is the MAIN idea – the original motivation and mission behind the entire Unfixed project. But, because of the pandemic and then funding issues, I've had to adapt, it's all on pause. We already shot about 1/5 of the documentary pre-pandemic.
Once principal photography is up and running again we project 16 more days of filming. Due to the medical needs of certain subjects, we will be unable at times to film full, eight hour days. Post-production is projected to take 28 weeks and distribution another 16 weeks.
Due to the uncertainty of the pandemic, we are unable to give updated definitive dates. Prior to the pandemic we were on schedule to finish principal photography by the end of October 2020 with two more months of b-roll and pick-up shots and post-production beginning January 2021. Obviously this timeline has shifted. Best case scenario we will be twelve to twenty-four months behind the original schedule, but due to the fragile nature of our subjects, our first priority is to ensure their safety. We will not begin filming on location again until it is safe to do so.
Overall, what's been the response to the Unfixed project?
It's been overwhelmingly positive. Ten months into production, we've been featured in national publications and podcasts. The video-series has won the Invisible Disabilities Association's Media Impact Award. We filmed three subjects on location prior to the pandemic and are now on pause until it's safe to resume. We're actively looking for an executive producer, investors, charitable donations, a post-production team and mentors.
Thank you, Kimberly! I look forward to staying in touch with your work. Perhaps I'll be in a podcast one of these days.
LINKS
Facebook 
Mil Allen
(Photo courtesy of Kimberly Warner)