Produced by Ondřej Beránek and directed by Thomas Hodan, "Film Adventurer Karel Zeman" takes the imaginative, multi-talented, and prolific Czech filmmaker Karel Zeman out of the pages of movie history and into our lives.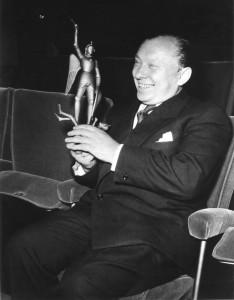 Hodan and Beránek tell Zeman's professional biography and weave his epic story with a contemporary film class recreating scenes from his classic films using Zeman's techniques and artistry. The filmmakers include plenty of scenes from Zeman's groundbreaking films.
Interviewees include Terry Gilliam and Tim Burton who express a deep appreciation for Zeman's imagination and influence on their work.
"Film Adventurer Karel Zeman" introduces a pillar of modern film history. Zeman is an utterly fascinating character who will enter your heart and never leave. If money and time were no object, I would cross two continents and one ocean to visit the Karel Zeman museum in Prague.
Check into the rich website devoted to the film and Zeman to learn how you may see this film and to learn more about Karel Zeman.
You may find three of Zeman's films on Amazon.