Ferlinghetti is a whirlwind romp through the life and times of legend-in-his-lifetime Lawrence Ferlinghetti. Most often connected with the 1950s birth of the 'beat generation,' the man rises above and beyond any one biographical reference.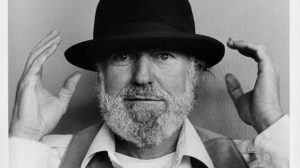 Ferlinghetti is an accomplished poet, painter, writer, publisher, political activist, cultural catalyst, and… with just a few of his written and uttered words presented in this 79 minute documentary, we learn he possesses an uncommon depth of wisdom.
San Francisco Bay Area filmmaker Christopher Felver does a masterful job presenting an outline of Ferlinghetti's biography, interviews with peers, and covering the many chapters of 20th century cultural history Ferlinghetti affected – and continues to affect.
The man himself appears speaking to groups of people, performing his poetry, and addressing camera. Felver's film is so rich in imagery and ideas, history and culture it virtually demands to be seen more than once. But in seeing it just once, Lawrence Ferlinghetti will enter your heart for life.
Released in 2010, Ferlinghetti was picked up for distribution by First Run Features in 2012. The dates don't matter. This is a timeless story about an unforgettable character whose significant can only grow in the countless years ahead.
The DVD includes a bonus feature of Ferlinghetti reading his poem, "The History of the Airplane".
http://www.firstrunfeatures.com/ferlinghetti/
http://ferlinghettifilm.com/