It's an emerging documentary genre, Getting Healthy: May I Be Frank, about an overweight unhappy guy, befriended by a small health-conscious team, recreates himself and his life. 9000 Needles, about a remarkably healthy and fit young man who suffers a massive stroke, and who finally finds help at a facility in China.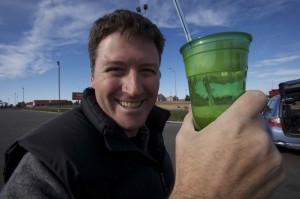 Joe Cross, our hero in Fat, Sick, and Nearly Dead is both overweight and has a serious medical problem to boot – an auto-immune disease that requires 15 milligrams a day of Prednisone. That dosage guarantees long-term adverse side effects.
(Spoiler Alert: I'm giving away plots points in this review – something I rarely do.)
Although his physical challenges are serious, if not dire, Cross is a successful businessman. Facing progressive deterioration of his health, he decides to aggressively address his compromised vitality, and has the financial wherewithal to do so. Cross leaves his Australian home and business for the United States – his "home away from home" – and goes on a physician-supervised 2-month juice fast. He spends 30 days in New York City, and the second 30 days travelling by road from East to West.
Along the way he talks to people everywhere he goes, promoting the virtues of juice fasting. Two of the folks he meets are moved to join him. The first, a woman who suffers from migraines also suffers the juice fast, but finds non-pharmaceutical relief from her debilitating attacks and integrates this change into her life. The second is Phil, a truck driver Cross meets at a truck stop. This is the first person Cross has met in his life who shares his exact diagnosis. Phil, who weighs over 300 pounds, flatly refuses Cross' help..
About 50 minutes into the film Joe Cross is all better. He's back home and back at work in Australia, looking fit, living his newly minted lifestyle, off of Prednisone.
Wait! I'm confused. It's too soon in this movie for our hero to have banished his adversary. Aha! Cross listens to his U.S.-based message service and hears a message from Phil: 'Help!'
I gotta tell you, this is story-telling at its finest. Life sometimes emulates great screenwriting. Joe Cross immediately flies back to his home away from home, and supports Phil in doing just a 10-day juice fast which quickly leads to a complete life change for Phil Riverstone. He loses a massive amount of weight, becomes active, stops driving trucks, and leads groups at his local health-food store in incorporating juice fasts into their lives.
Joe Cross' charming personality and Phil Riverstone's jaw-dropping transformation could not be more inspiring. So, caution, Fat, Sick, and Nearly Dead may be good for your health.
Coda: Fat, Sick, and Nearly Dead II is on the way.
http://www.fatsickandnearlydead.com/