It's happened again, I've seen a documentary film that is documentary filmmaking at its finest.
Written, produced, and directed by accomplished documentarian Brad Bernstein, Far Out Isn't Far Enough presents the life and times of artistic genius Tomi Ungerer. I am as excited by the brilliance of Bernstein's filmmaking as I am by the raging genius and epic biography of Jean-Thomas "Tomi" Ungerer.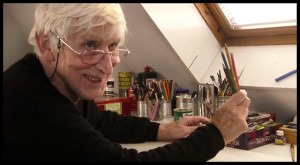 Ungerer tells his story on camera. Bradstein adds interviews along with a lifetime of archival stills and moving images. The fascination is the strife and tragedy Ungerer lived through and was sculpted by in his childhood, the achievements and challenges of his adult life as a prolific artist and writer, and the person he has become as he reflects on his past, lives in his present, and anticipates his future with joy.
The treat, the gratification is the massive amount of Ungerer's work we see. Additional treats include the Maurice Sendak and Jules Feiffer interviews peppered throughout the film.
Far Out Isn't Far Enough is beautiful in look, sound, and music. The filmmaker's heart and soul is clearly infused throughout.
Released in 2012, the First Run Features DVD includes the following special features: Tom Ungerer and Jules Feiffer at The Society of Illustrators, Maurice Sendak Critiques The King's Speech, Tom Ungerer in Ireland, Deleted Scenes, The Far Out iPad App, and Director's Commentary.