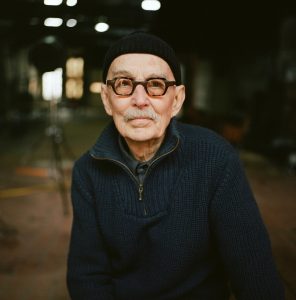 A portrait of photojournalist Burk Uzzle, 2018's F11 and Be There is filmmaker Jethro Waters' first documentary feature film, and it is a stunning, inspiring, unforgettable film that deserves a wide audience.
Born on August 4, 1938 in Raleigh, North Carolina, Uzzle began taking pictures as a young child, and never stopped. As of the waning months of 2020, the photographer continues his prolific, well-lauded career.
At the age of 23, Uzzle became the youngest photographer hired by the legendary LIFE Magazine. In the midst of his long career Uzzle began portraiture work of African Americans—an expression of his deep concern for racism and the centuries of suffering African Americans have experienced, and still experience in the United States.
No need for a narrator, Uzzle appears throughout the film telling his own story, sharing a passionate concern for the disenfranchised and the suffering. Yet, his photography covers countless aspects of American life and culture. Uzzle also works with and teaches young people photography, focusing on the essence of this medium.
F11 and Be There is more than a documentary film, it is a jaw-dropping experience of an American icon.
In addition to director, Jethro Waters also served as director of photography, editor, sound engineer, colorist, and music director. The soundtrack was composed and performed by Natalie Prass and Eric Slick, with additional material from Luke Norton.
F11 and Be There is a First Run Features release.
(Burk Uzzle. Photo © Jethro Waters, 2020.)