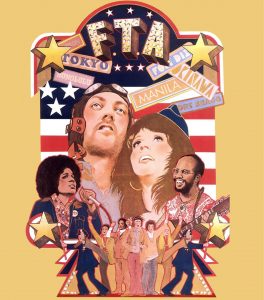 Directed by the late Francine Parker, F.T.A. is a feature documentary film of an early 1970's tour by an American troop of performers putting on anti-Vietnam/anti-war shows throughout a few Asian countries. The film was released in 1972, and squashed less than two weeks later.
The FTA show was conceived by Howard Levy, an ex-US Army doctor who had just been released from 26 months of incarceration at Fort Leavenworth military prison in Kansas, for refusing orders to train Green Beret medics on their way to the Vietnam War. The show's idea was inspired in part by Bob Hopes' years of putting on shows in support of Viet Nam troops and the war itself. Jane Fonda and Donald Sutherland were the two most prominent FTA performers.
There are a few versions of the show's title: The FTA Show, Free The Army tour, and Free Theater Associates. These titles were, in turn, a mockery of the Army slogan, 'Fun, Travel and Adventure.' The tour's performers and troops much preferred their ascribed meaning of FTA as 'Fuck The Army.'
Much kudos to Kino Lorber for curating F.T.A. which yours truly viewed on Blu-ray. Kudos, too, for these four bonus extras:
• Introduction by Jane Fonda
• 2005 interview of Jane Fonda
• 'Sir, No Sir! — a 2005 83-minute documentary by David Zeiger
• Booklet with essays by historians David Cortright and Mark Shiel
I consider it crucial that viewers see the film with subtitles on.