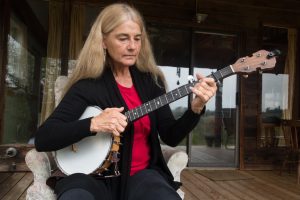 Under the aegis of the Republican-threatened National Endowment for the Arts lives the National Heritage Fellowship—founded in 1982 by Bess Lomax Hawes.
The Fellowship conducts a national awards program that honors 'our nation's master folk and traditional artists with the National Heritage Fellowship Award.' The honors are formally presented at an annual awards ceremony and concert. You may see and hear the latest ceremony here.
In turn, filmmakers Alan Govenar and Jason Johnson-Spinos honor the Fellowship with their richly produced Extraordinary Ordinary People. The two, of course, are honoring the artists, performers, and craftspeople. The number and variety of artists profiled in the film is overwhelming—that's a good thing. The film and its website provide the uninitiated, such as your truly, all the images, music, and information necessary to follow up on any style, genre, or craft that tickles the fancy.
As of December 2017, the film is still playing in theaters. Stay in touch with the website, of course, to learn about theatrical screenings and the eventual home video release.
Extraordinary Ordinary People is a First Run Features release.
Pictured: Sheila Kay Adams