Every three seconds a human being dies of hunger.
Daniel G. Karslake's film, Every Three Seconds, addresses that global horror as well as extreme poverty.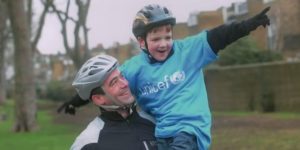 Karslake focuses on five formerly ordinary people – including a young child – who have made a difference, a contribution to the alleviating of those two human maladies.
1) Charlie Simpson, seven years old at the time, raised US$240,000. for Haitian earthquake relief.
2) Josh Nesbit developed a specialized cell phone texting program for a region of Africa where access to healthcare was previously onerous to impossible.
3) Lisa Shannon initiated an international movement, Run for Congo Women, to address the many years of oppression, assault, rape, torture, maiming and killing of women in the Democratic Republic of Congo.
4) Ingrid Munro took microfinance into higher realms by creating an institution that serves 170,000 members in Kenya. I found this story the most amazing – deserving of its own feature documentary.
5) Gloria Henderson organized a 'gleaning' program in North Carolina. Gleaning refers to the searching for and utilization of produce which has been abandoned.
Karslake weaves these five stories throughout Every Three Seconds which was produced with high production values. And, it is that rare documentary film with available subtitles.
It would take a heart of glass to not be deeply moved by any one of these individuals and the positive difference each has made in our world. The synergistic impact of the five interlaced stories is undeniable.
The point, of course, is that most of us humans are 'ordinary,' and despite or because of our ordinariness, it's our call to make a difference.
Like many documentary films of its ilk, the website associated with Every Three Seconds is integral to the experience of the film.
http://www.everythreeseconds.net/