First Run Features' Enter the Faun is about two subjects: The creation of a dance piece and the transformation of Gregg Mozgala's body and mind.
Mozgala is an actor, playwright, artistic director, and has cerebral palsy.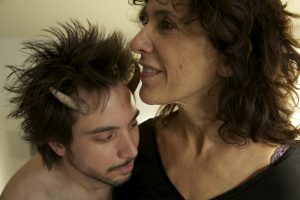 Tamar Rogoff is a prolific choreographer who specializes in breaking boundaries and limits—both artistic and human.
Rogoff discovered Mozgala in a production of Romeo and Juliet that featured players with and without disabilities. Impressed with his performance, she invited him to dance in a production. He was to play 'The Faun' from Roman mythology. The performance was entitled Diagnosis of a Faun.
Rogoff had no intention of changing the way Mozgala moved, yet in developing the performance she found herself improvising touch and movements that profoundly expanded Mozgala's movement abilities, reduced his pain, and transformed his image and sense of himself. This transformation flew in the face of medical expectations that Mozgala's quality of life would gradually degrade to the point of being wheelchair-bound.
Gregg Mozgala's life is now anything but. In addition to his work in the arts, he helps children with challenging CP limitations—and now he is the star of an inspiring documentary film that yours truly hopes is seen by many millions of people around the world.
Enter the Faun is produced and directed by Tamar Rogoff and Daisy Wright.