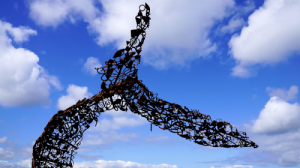 Entangled is a masterfully crafted documentary film directed by David Abel, and edited and co-produced by Andy Laub. Both gentlemen are vastly multi-talented and highly accomplished. Their film covers a classic conflict between environmental values and commercial concerns.
The North Atlantic Right whale is on the verge of extinction. Fishing lines, ropes and ship strikes are the primary culprits. Further exacerbating this environmental tragedy are changes in the whales' available food sources. As I write, there are approximately 350 Right whales in existence, with about 85 reproductive females left.
Passions flare on both sides. Fishing interests are facing existential economic losses, while the Earth faces the loss of another rare and noble species. The film gives both sides equal time in making their respective cases.
Of the obstacles to saving Right whales, vertical fishing lines cause the most deaths. As I watched the film I thought, 'there's gotta be a technological solution, a way to have ropeless commercial fishing.' Near film's end it is revealed and demonstrated that a workable solution has been designed and created. It will cost, of course, but, if the Federal government can subsidize very large industries, it could subsidize the implementation of ropeless fishing systems.
Entangled is another crucial environmental film that deserves a very large audience. In addition to seeing the film, I encourage viewers to access the website—especially the link to Right Whale News.
You may find the film Here