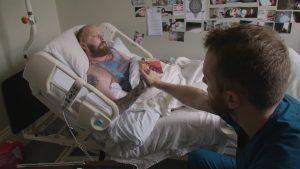 End Game is a 2019 Oscar nominated short documentary film about innovative, compassionate approaches to dying. Based in San Francisco, veteran filmmakers Rob Epstein and Jeffrey Friedman follow five people through their death process.
The film features physicians BJ Miller, Steve Pantilat and Giovanni Elia who appear throughout the film working with patients, and speaking of the philosophy behind their emerging approach. The film highlights a team approach to care including physicians, nurses, social workers, and chaplains. By film's conclusion we have experienced what compassionate care looks and feels like.
The film's website includes a valuable resource section. Scrolling to the bottom, viewers can find Dr. Pantilat's book, life after the diagnosis, Dr. Miller's Ted Talk, and Your Conversation Starter Kit.
The topics of death and dying should not be, but are seemingly taboo. End Game is another powerful force in bringing death and dying into the light.