Produced in 1999, and narrated by the ubiquitous Peter Coyote, Emperor of Hemp is a tightly focused portrait and biography of marijuana and hemp crusader Jack Herer whose early life was as a patriotic Vietnam veteran and businessman who deplored the emerging 'counter culture' – especially its anti-war/anti-government expressions and use of drugs.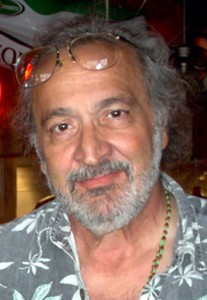 Somehow Herer fell through the rabbit hole and never returned. He discovered the power of marijuana and, especially, the utilitarian value of the cannabis sativa plant, hemp.
In less than one hour Emperor of Hemp outlines Herer's story and articulates his passionate objections to marijuana laws and passionate support of hemp's seemingly unlimited number of uses. Although I'm a culturally clichéd Child of the Sixties, I left most of that behind – especially drug usage – in my search for a career. I'd never heard of Herer, his books, nor the tremendous amount of information about marijuana's 20th century history and the squashing of hemp cultivation provided in this compact hour.
Consequently, I found Emperor of Hemp thoroughly revelatory. And I was particularly infuriated at the information that hemp could have been embraced by the United States and the world as a sustainable source of paper instead of trees. The tragic facts about hemp's history come out in the inflammatory centerpiece of this film – Jack Herer's observations of events that took place in 1937.
Good movies often times leave us wanting more, and good documentaries leave us wanting to know more, to see more. By virtue of this film's taut focus we learn only an outline of Herer's life. I wanted to know what happened with his relationship with his three children, and I wanted to learn much more about his deep and broad personal transformation.
In ant case, I was struck by Herer's dedication and charisma, by his strength of character which enabled him to preserver in his crusade through many barriers, and, especially, by the significance of the information he – and this documentary – present.
My hat's off to the filmmakers. Writer/producer Jeff Meyers and director Jeff Jones not only packed Herer's story and worldview into this short hour, they stuffed it with great music, archival footage, and a tremendous amount of information between interviews. On top of all this, the DVD includes a 'Bonus Feature' – a 1942 documentary entitled Hemp for Victory produced by the United States government.