It was 1954, in Charleston, South Carolina. I was 6 years old. This is the first film I remember seeing at a movie theater.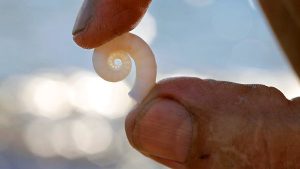 A small boat in the ocean, with a captain, one harpoon gun, and a small crew. It's a whaling boat. The boat comes upon a whale, but this whale's different – he stands up on his tail, supported by the ocean, and sings opera. He sings with joy and a big smile on his whale face. The crew grab chairs, sit down, and thoroughly enjoy the performance.
The captain, however, is single-minded. There is no measure of magic or beauty that can distract him from his commercial purpose – the killing of whales. A storm comes up, the captain goes for the harpoon, the crew fights him, all as the boat is tossed in the broiling ocean; the whale is swimming as fast as he can to escape the slaughter. The captain has his way. My child's heart is broken. The last scene offers cold comfort. The formerly grey whale is now pink, and instead of standing on his tail, on the ocean, he's standing on a cloud, again singing opera.
What could be a simpler, clearer message? Etched forever in my brain – and heart. Commercial interests destroy life, beauty, and grace.
This animated short was released in 1946, and originally titled "Willie the Operatic Whale", but is now listed in IMDB.com as "The Whale Who Wanted to Sing at the Met". It was produced by Walt Disney Productions, and distributed by RKO Radio Pictures.
Almost six decades later I am reviewing documentary films many of which are about environmental destruction and efforts to mitigate same. The bad guys are commercial interests, geo-political conflict, apathy, hopelessness, and helplessness. Human over-population as a causal factor is avoided or given lip service. Some day, though, it will get its own documentary, its own 'Inconvenient Truth'.
In the meantime we have this, Elemental, a well-produced, from-the-heart film documenting the lives and efforts of three environmental activists:
Rajendra Singh champions the clean-up of the massively polluted Ganges River.
Eriel Deranger is a young woman aggressively fighting against Tar Sands oil extraction and the building of pipelines in Canada.
Jay Harmon is a designer and inventor from Australia. He is creating structures which may significantly reduce energy usage – and a device that could quickly address global warming.
Produced and directed by Eriel Deranger and Emmanuel Vaughan-Lee, Elemental deftly weaves the profiles and stories of our three activists throughout the film's 90-minutes. The production quality – sound, image, music and editing – is very high. Each character, each story is significant enough to merit its own feature documentary. Like most environmental documentaries, the film challenges viewers to examine our responses to environmental devastation, our thoughts and feelings, our responsibilities, our limitations, our helplessness, and our potential to make a difference that we've yet to make.
http://www.elementalthefilm.com/