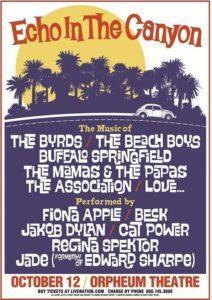 "Music happens in a particular moment in time, and it changes everything going forward." Jackson Browne
Boy, if there was ever a documentary that screams the showbiz adage 'leave them wanting more' it is the utterly delightful Echo in the Canyon.
The film is about a time—the 1960s; a place—southern California's Laurel Canyon; and the music of a handful of iconic artists that echoed way beyond the Canyon.
This particular time and place birthed an artesian well of young, talented, songwriters, musicians—and music that changed the world.
Producer/director Andrew Slater covers the preparations for, and the presentation of a 2015 concert celebrating the 50th anniversary of the Laurel Canyon music scene—and includes interviews with several of our icons.
Held at Los Angeles' Orpheum Theatre, the standing room only concert featured contemporary artists performing both well- and lesser-known songs from this era. The film interspaces clips of rehearsals, recordings, performances, and interviews.
For yours truly, the film's revelation is Jakob Dylan. I guessed, successfully, that he is, of course, Bob Dylan's son. I was impressed with his hyper-talent, his dignity and poise—and looks that Central Casting could use for a multitude of roles.
Echo in the Canyon was released in May, 2019.