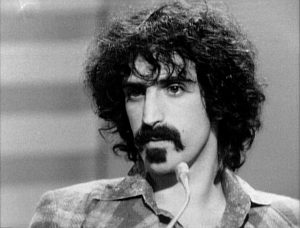 Eat That Question is an introduction to the professional life and philosophy of legendary composer/musician/filmmaker Frank Zappa.
Director Thorsten Schütte chose the graceful approach to telling Zappa's story exclusively through clips of interviews.
For those who are not or barely aware of him, Eat That Question reveals Zappa as a prolific musical genius, as well as a free and independent thinker who rails against those who are not thus. The film includes a plethora of video clips of the composer's on-stage performances as well as orchestral performances of his long-form compositions.
Zappa is smoking a cigarette in some—if not most—of his interviews. As a fan I was devastated to learn of his untimely illness and death. I still am.
Distributed in the United States by Sony Pictures Classics, but not available from the company's website, Eat That Question is a must-have for Zappa fans, and a quintessential introduction to the man and his work.