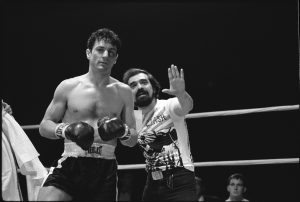 Written and directed by Kenneth Bowser, Easy Riders / Raging Bulls: How the Sex, Drugs and Rock 'n' Roll Generation Saved Hollywood outlines Hollywood's final transition from a studio-driven industry to a director-driven industry, and then to the mega-corporate industry it is now, dominated by what are called 'Big Budget B-Movies.'
Based on Peter Biskind's book of the same name, the film roughly covers the time period from the late 50s to the mid-80s.
Narrated by William H. Macy, the story is told with film clips, archival clips and photographs, and interviews with Cybil Shepherd, Dennis Hopper, Paul Shrader, Ellen Burstyn, John Milius, Polly Platt, Margot Kidder, William Friedkin, Peter Bogdanovitch, Kris Kristofferson, and several others. I was mystified by a lack of references in the film to Stanley Kubrick.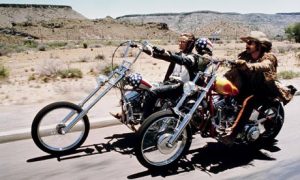 I can't get enough films about films, about movie making, and movie history. So, it's no surprise that I had a great time watching Bowser's film. At the end of it's almost two-hour running time I thought to myself, 'I wish this were a four hour movie.' I then grabbed the DVD case to review credits and notes, and discovered a second disc of another hour and forty minutes of interviews. I was in documentary heaven.
I went to the website of the film's distributor, SHOUT! Factory, but couldn't find the film for purchase. I then went to eBay and found plenty of 'em.
http://www.imdb.com/title/tt0359203/combined