This is the magic of documentary filmmaking—to tell so many stories in such a short amount of time, in this case one hour and thirty-five minutes, and with such love.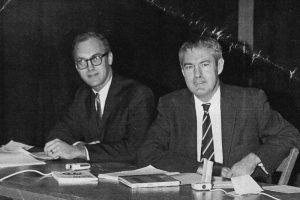 In this brief moment producer/director Gay Dillingham shares with us stories of Timothy Leary, Ram Dass, their life-long relationship, and a bit of the history of psychedelic drugs in the United States. Robert Redford perfectly performs David Leach's narrative script.
In addition to Leary, Ram Dass, and their friends and family, Dillingham shares perspectives from luminaries in the worlds of eastern and western spirituality including Roshi Joan Halifax, Ralph Metzner, Huston Smith, and Andrew Weil. The multi-talented—including lyricist for The Grateful Dead—John Perry Barlow provides a poignant, emotional moment.
The film's title, "Dying to Know", reflects the multidimensional nature of the topics and lives covered. Knowledge, especially knowledge of self, seems foundational to both men. The film follows Leary to and through his passing. Ram Dass has studied, written, and spoken about death and dying for decades. And for us human beings, whatever the phenomenon, issue, want, or need, we are all 'dying to know'—and concurrently struggling with our knowledge of the chronological limits of our corporal being.
Dillingham's "Dying to Know" brilliantly and delicately transcends the 1960s zeitgeist most commonly associated with its two subjects. The film's words and stories address our human condition. And, yes, it is a fun trip to take for those of us who were there—but it is this deeper impact that is the fundamental reason to see and keep this loving film.