Turns out David Letterman didn't start it—dropping things on the street from high above.
Gene Bernofsky and Clark Richert were dropping works of art onto streets far below in 1962, at the University of Kansas in Lawrence. They coined it 'Drop Art.' 'Drop' indicated their artistic medium and micro-cult.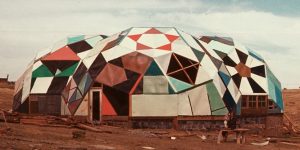 Driven by Utopian visions, the artists' path led to the creation of a commune near Trinidad, Colorado, with structures based on the design work of Buckminister Fuller, and built from thrown-away items.
Directed by Joan Grossman, Drop City ) tells a microcosmic story of a prescient early-60s counter culture community that mirrors the macrocosmic history of the era – the birth, flourishing, and dissolution of an idealized society. The film is equal parts eulogy, tribute, and celebration.
Those who aspire to join or create an 'intentional' community would do well to see the individual and social dynamics revealed in Grossman's unflinching film. Those who lived this era may enjoy this cinematic flashback.
To find Drop City, go to the film's website and click on Contact.
http://www.7thart.com/films/Drop-City
http://www.dropcitydoc.com/