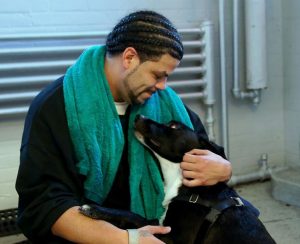 Produced, shot, and edited by Brean Cunningham and Douglas Seirup, Dogs on the Inside tells the story of a prison program in Massachusetts called Don't Throw Us Away that pairs prisoners with rescue dogs. In addition to bonding with the dogs, the prisoners are charged with fostering and training them in preparation for finding forever homes.
Many of the rescue dogs come from the state of Mississippi, and our intrepid filmmakers found their way to that southern state to cover the work of dog rescuers.
Whether it's a 15 second Facebook clip or a two hour documentary, I can't get enough of animal films, movies, videos, television shows—or in person. Seirup and Cunningham have successfully captured the magic and love that can happen between human and non-human—given, of course, the support and context.
Dogs on the Inside is available as a stand-alone feature or as a 'Deluxe Edition' that includes more than 30 minutes of extras. I highly recommend the Deluxe. When it comes to documentary films I automatically include any and all extras as part of the film, part of its story or stories.
If you love dogs, you'll love this film. If you see this film, you'll love dogs.