"The only reason I'm on this Earth is to be with dogs. This is all I know. This is all I've ever known. This is all I want to know."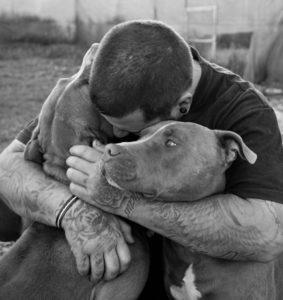 Australia's Jacob Leezak has had much more than his fair share of trauma. His life's journey, however, carefully guided this big, strong man to the world of dogs. He founded and runs the Canine Behaviour Expert Dog Psychology Centre on the outskirts of Sydney.
Accomplished actor Eryn Wilson covers Leezak's life and work with dogs in his directorial feature film debut Dog's Best Friend. Having viewed this heart-felt documentary, the term 'best friend' is not hyperbole. Leezak houses and rehabilitates dogs who likely would have been euthanized or otherwise lived a short, miserable life. His love affair with dogs knows no bounds. The center never has fewer than 30 dogs.
Wilson follows Leezak as he spends time with dogs, speaks about his life experiences, his manner of helping dogs, and as he works with them. Amongst many other approaches, Leezak uses a treadmill, a small water pool, and massage to rehabilitate his charges.
The only other human who shares significant screen time in this film is Jennah who is pregnant with their first child during shooting. She, too, has had a daunting, a very daunting life experience, and has found her way to a healing life experience. And, yes, we get to meet the loving couple's baby at film's conclusion.
Dog's Best Friend is a delightful, moving film about a loving hero and his devoted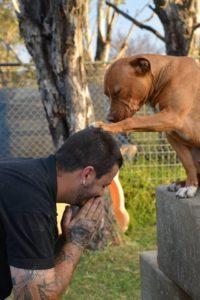 relationship with dogs.
Check in with any of the links below for the latest news about its release.