Documentarian Emergency Relief Fund
Sponsored by From the Heart Productions, Inc.
Made Possible by a Donation from Carole Dorothy Joyce
The Documentarian Emergency Relief Fund was established in January 2021 to give up to $1,000 each month for a period of 10 months to documentary producers and directors facing "dire financial emergencies" during the Covid-19 pandemic.
Please Note: The Documentarian Emergency Relief Fund is now closed for new applications.
All requests for information should be emailed to documentarian.relief@gmail.com Please do not not email or call From the Heart Productions.
About the Documentary Emergency Relief Fund
From the Heart Productions (FTH) recognized that we are living through a perilous time with health issues creating havoc around the world, including filmmakers' economic stability. The purpose of the Documentarian Emergency Relief Fund (DERF) is to assist documentary filmmakers impacted and provide monetary assistance, such as for meeting essential life expenses, so they can continue working on their projects.
This fund opened for submissions January 2nd, 2021. Applications are accepted beginning on that date and on the 1st of each month thereafter. Submissions for funds for each month will close on the 14th of that month.
If your submit a request after the 14th, your application will be considered in the following month in next round of funding.
Members on the DERF Funding Committee will review applications and select the recipient(s).
More than one filmmaker may receive funding in each monthly funding period, but only a maximum of $1,000 total in funds will be paid out for each month. Payment will be sent by the end of the month in which the application was submitted. Different filmmakers will be selected as recipients each month.
The DERF will continue as long as the funding is available. $10,000 total will be made available for this fund. We expect to have funding available for at least ten months through October 2021. Filmmakers can apply for any amount up to $1,000 per the guidelines of application and financial needs.
All questions requests for information should be emailed to documentarian.relief@gmail.com Do not not email or call From the Heart Productions.
"As a documentary filmmaker endeavoring to remain productive and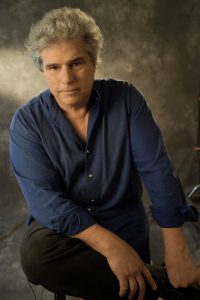 relevant in the face of new and unprecedented realities, I'm grateful to From The Heart Productions and their Documentarian Emergency Relief Fund, made possible by a grant from Carole Dorothy Joyce, for selecting me as the second recipient of this 2021 grant.
"Generous support of this kind makes it possible for me and other documentarians to offset some of the challenges we've been experiencing, boost our spirits, and assist us in continuing to pursue a bright cinematic future."
Lorenzo DeStefano – Ventura, California
Who Can Apply to the Documentarian Emergency Relief Fund?
A documentary producer or director who has created at least one 60-minute documentary feature film that has been released and distributed. Distribution can include any of these: theatrical screenings, sale to online streamers and/or significant community screenings. It can also include VOD placement on either Amazon or iTunes.
Applicants must also be currently involved in the field of documentary filmmaking. They must show they are now engaged in the research, development, pre-production, production, or post-production of a documentary film.
Students who are currently enrolled are not eligible. Board members or employees of From the Heart Productions and their relatives are eligible for the fund.
Funding is available to domestic (U.S.) filmmakers only. Filmmakers need not be US citizens but they must be residents who can legally work in the US.
Personal and Work Guidelines for Application:
Applicants will need to attest to the following:
I am a practicing documentary filmmaker and I am able to demonstrate a sustained commitment to my work, career, and a public audience;
I am experiencing dire financial emergencies due to the COVID-19 pandemic;
I am 18 years of age or older;
I can provide a Social Security Number (SSN) or Individual Taxpayer Identification Number (ITIN) after I've been notified of my selection;
I have been living and working in the U.S. for the last two years;
I have not previously been awarded a relief grant from this fund;
Applicants will also be asked to provide these links if available:
IMDB page, film review, or direct link to project that shows professional work in the field.
Website
Social media presence
Financial Needs Guidelines for Application
Applicants must provide information about the "dire financial emergencies" they are facing due to COVID-19. "Dire financial emergencies" is defined by this fund as the lack or imminent endangerment of essentials such as housing, medicine, childcare, transportation (car and gas expenses), utilities, and food.
Filmmakers applying will need to specify what are their "dire financial emergencies" that are occurring during the next four weeks from the time of their application.
Examples of "dire financial emergencies" include but are not limited to:
Food (unable to buy groceries);
Housing (unable to pay rent or maintain a steady or safe living situation);
Car (unable to make car payment);
Medical (unable to procure necessary medications for pre-existing or current conditions);
Phone or internet may be turned off;
Electricity turned off.
In 100-400 words, applicants will be requested to describe the dire financial emergencies they are facing due to COVID-19. They will need to identify why they urgently need support within the next four weeks.
Applicants must list the maximum and minimum amount of money that will help them cover the needs of this emergency.
Applicants will be asked to review the statements below and select all statements that apply to them.
I have lost full-time, part-time, or contract-based work due to COVID-19
I am unsure when I will make any income again or have enough income to cover the "dire financial emergencies" I've entered in application.
I have no financial safety net (savings, assets, family resources, etc.)
We are aware that each artist's needs differ, so please thoroughly and accurately describe your situation. We want to get funds to those in need.
Upon Acceptance
You will be notified via email whether or not you will be receiving funding. Funds will be dispersed via check, so applicants must provide their current mailing address. In order to issue the funds, we will need a W-9 tax form and an invoice.
Need More Information?
Please visit the FAQ. You can also email documentarian.relief@gmail.com Please do not call or email From the Heart Productions. Direct all correspondence to documentarian.relief@gmail.com