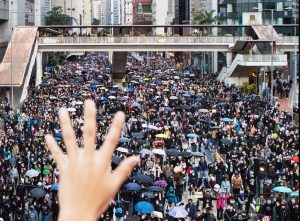 Directed and shot by Anders Hammer, Do Not Split is a documentary short that covers the violent conflict between Hong Kong's citizens and Chinese forces for Hong Kong's democracy.
Hammer simply lets his camera tell the story on the streets of Hong Kong—including protesters' responses to this battle for freedom. The film ends in the pandemic with the streets emptied.
The film is available gratis from a few sites. My preferred site is Field of Vision.
Do Not Split has been nominated for an Oscar in the Best Documentary Short category. China will not allow the Oscars to be aired in Hong Kong on account of the Oscar nod to the film, and because of filmmaker Chloe Zhao who made comments about China years ago that the government disliked. This is the first time Hong Kong has been stripped from seeing the annual awards broadcast of the Academy of Motion Picture Arts and Sciences since it was banned in1969.
(Photo courtesy of 'Do Not Split')