This is the fun of reviewing documentaries. The title is David Wants to Fly. That's all I know. It could be anything. I'm not even sure it's a documentary. What do you think it's going to be?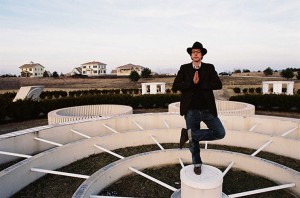 I'm instantly transported to contemporary Germany. A handsome young man, David Sieveking, and his beautiful girlfriend, Marie Pohl, are in bed. Marie, a writer, has recently moved in with David who is an aspiring filmmaker looking to make his first big splash. Marie is working on her second novel. As the morning sun enlightens the two lovebirds, off-camera-David's-voice narrates he is "lost after finishing film school." I'm still not sure this is a documentary.
"I wanted to make dark films," David says, "like my idol, David Lynch. But I was lacking the darkness. He was my age when he completed his first masterpiece. Then I discovered this ad on the internet—a conference in America where David Lynch himself was supposed to speak about the source of creativity."
Against Marie's objections, Sieveking, documenting his angst and his search, decides to attend the conference, seeking, in my words, his muse. Okay. Now I'm feeling like I'm watching a movie about the making of a movie, I'm propelled back to Charlie and Donald Kaufman's masterpiece, Adaptation.
Sieveking travels to Fairfield, Iowa, wondering why David Lynch lives there instead of 'Hollywood.' The answer comes quickly: "'Transcendental Meditation' plays an important part in Lynch's life, but he'd never spoken about it in public." A U.S. portion of this international organization is based there.
And that's the setup. David Wants to Fly is, of course, about both Davids, but the primary focus is on our filmmaker, Sieveking, who tells a few stories in this, his first post-film-school film which may not be a 'masterpiece,' but which is very well-done, and thoroughly engaging.
Sieveking's decision to go to this conference propels him on a journey into the worlds of 'Transcendental Meditation,' a journey into himself, and to a rocky relationship with the beautiful Marie. Whether or not this is a documentary doesn't matter any more. It's a great story. Like Dorothy's sparkling red slippers, David had his muse all the time, and said muse has done her job.
I'm extremely and unusually tempted to tell you, dear reader, what happens on Sieveking's journey, what he discovers, what we discover, and, especially, what I think about it all. But, I don't like to be told what I'm going to see, and I try, as much as I can, to follow the Golden Rule. I'm happy to say, though, that I was touched and inspired by David Sieveking's filmmaking skills and, especially, his vulnerability.