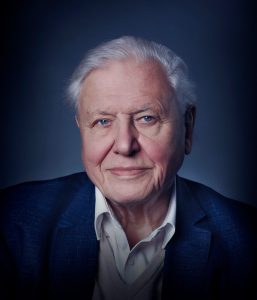 I rarely cover Netflix documentaries because,… well, they're Netflix, and the streamer gives documentary films plenty of much-needed exposure. But, I do watch their documentary films, and this one, David Attenborough: A Life on Our Planet is one of those films that should be seen by the whole world.
Attenborough is 93 years of age. He has had a magnificent and storied career covering the natural world. I've seen most, if not all, of his films. As a matter of course I watched this one, and it left me stunned.
In his introduction Attenborough says, "The natural world is fading. The evidence is all around. It's happened in my lifetime. I've seen it with my own eyes. This film is my witness statement and a vision for the future."
He then covers human beings' many ways in which we have damaged our natural world, and the inevitable results of our careless behavior. Sir David Attenborough is telling it like it is like he's never done before.
The film takes us on Attenborough's personal journey through the decades of his coverage of the natural world, and concurrently down the unhappy road of the inevitable loss perpetrated by us humans. As with all of his films, we are treated to exquisite images of the natural world, reminding us what a healthy natural world can be, and can do for us human animals and our home. He concludes the film by pointing out what we can reasonably do right now to stem the tide of destruction, and to revive our natural world.
David Attenborough: A Life on Our Planet is directed by Alastair Fothergill, Jonathan Hughes, and Keith Scholey, and is produced by Silverback Films and the WWF. It is a documentary everyone must see. The film's website provides suggestions on how you can help that happen.
[Note: As of October 10, 2020, the film has an IMDB rating of 9.2 by 10,249 raters.]