Whatever the etiology, the number of children who develop autism has increased dramatically, if not exponentially. This tragic phenomenon has created an inevitable subculture—with micro-cultures within that subculture. One of those sub-subcultures is individuals 'on the higher functioning end of the autism spectrum.'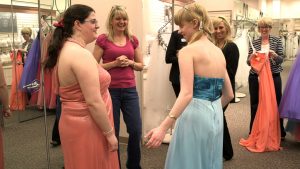 How to Dance in Ohio follows a group of adolescents who receive a variety of services at the Amigo Family Counseling center in Columbus, Ohio. The center was founded by Dr. Emilio Amigo in 1993. Amigo, as far as I can tell, is the source of the film's inciting incident—a formal dance party at a local club.
Director Alexandra Shiva follows Amigo and his 'higher functioning' adolescent charges as they live, learn, and grow through three months of preparations for this high-stakes Amigo Spring Formal.
How to Dance in Ohio immediately went on my personal all-time favorites list. I am in awe of Amigo's skills, dedication, and the care he provides this challenged and challenging population. I am in equal awe of filmmaker Shiva's ability to so sensitively cover the lives and stories of these young people.
In addition to the delicate touch this film's production required and received, I am also impressed with both the quality of sound and image the production crew achieved.
How to Dance in Ohio is distributed by Kino Lorber.