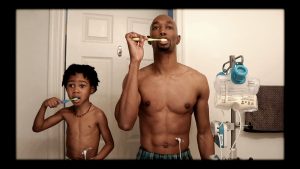 "I feel like being a father made me the man I am. My children taught me to be authentic, and be honest with myself. Fatherhood has given me a whole new identity."
Glen Henry, father
The title says it all. Bryce Dallas Howard's Dads features dads—some famous, others not so—speaking their thoughts, experiences, and expressing their feelings about fatherhood. Many of these dads break down in happy tears in interview as they speak of their fatherly experiences. The common denominator for all the dads is the radical life and character changes they experienced as dedicated fathers.
Robert Selby's first child was born with multiple heart problems. The UPS driver did not have his own transportation, so made his way by public transportation to see his baby grow up through multiple heart surgeries and other treatments. His child is now happy and healthy.
Rio de Janeiro's Tiago Queriroz experience as a new father inspired him to create a successful podcast on fatherhood.
In Tokyo, Shuichi Sakuma was working 150 hours a week when he fell victim to a painful autoimmune disease. Housebound, he spent two years convincing his wife to give him a child. She did just that, saying she did this specifically for her husband. Upon fatherhood the formerly dour workaholic became a joyful, healthy, happy human being raising his son at home, and attending 'The Secret Society of Friends of House Husbands' meetings
Rob and Reece Scheer ended up adopting four children, one girl and three boys. The two gentlemen went from no children to four children in six months. Three of them were still in diapers. Rob made the most unusual statement of the whole film. He said when he was six years old he knew he wanted to be a father.
Reece said he wanted to be a stay-at-home dad, so the family became one-income. And, they bought a farm with plenty of critters. The four adoptees came with significant life challenges, which, of course, gave the two parents significant challenges. Yet, Rob states with utter certainty and a smile on his face, "I won the lottery, I literally won the lottery." This family could have their own documentary.
In 'Hollywood' we hear from Kenan Thompson, Judd Apatow, Will Smith, Neil Patrick Harris, Patton Oswalt, Ken Jeong, Conan O'Brian, Jimmy Kimmel, and Hasan Minhaj.
There is just so much love shining through Dads. The film is thoroughly engaging, and unless you have a heart of glass, you will find yourself with your own happy tears as you listen to and see these dads tell their stories.
Dads is an Apple TV+ feature documentary
(Photo of Robert Selby and son courtesy of Apple TV+)