Cassie Jaye's Daddy I Do opens with a close-up of a beautiful young woman sensually painting lipstick on her lips. Stevie Ray Vaughn's "You Better Leave My Little Girl Alone" smothers the scene with its hot-and-heavy moaning guitar. Cut to a handsome, middle-age, clean shaven man tying his tie. Both are at home,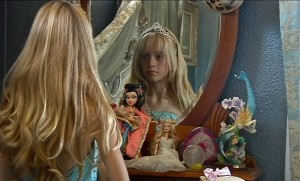 preparing for a ceremony, a Pledge of Purity, to be conducted at a Purity Ball for fathers and daughters. The pledge is hers, of course, a vow of chastity, a promise not to have sex until marriage.
Conceived in 1998, the Purity Ball is a national movement in 48 of these United States, and international in 17 countries. One in six American girls make their pledge of purity, 90% of them break their vow.
Sublimated incestuous impulses aside, Jaye uses this satire-friendly phenomenon as a springboard to her exploration of a variety of topics around adolescent sexual behavior – the core issue being the controversy of comprehensive sex education versus abstinence-only sex education. That controversy, in turn, has several implications the most crucial of which are teen pregnancy, abortion, poverty, and sexual abuse.
For better or for worse, depending on your perspective, Jaye settles that controversy with incontrovertible information that comprehensive sex education – the kind that includes topics of disease and pregnancy prevention – improves a great many parameters of adolescent female health and well-being.
However, more than one billion of tax dollars have been spent on abstinence-only sex education, and – as of the film's production – we continue to spend tens of millions of dollars annually on this ludicrous, futile attempt at indoctrinating young women and men. Is the motivation behind these spent tax dollars to help teenage girls, or to impose some people's ideas of religious morality?
http://daddyido.com