Caveat emptor: Read this review at your own risk. This symphony's curse can transfer quickly and easily. I will not be held responsible for any subsequent unhappy experiences you may have if you chose to read on.
Okay. You asked for it.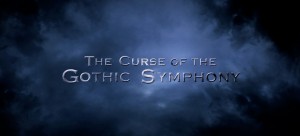 The Curse of the Gothic Symphony tells the story of the Brisbane, Australia production of legendary British composer Havergal Brian's 'Symphony No. 1' (The Gothic), composed over a period of eight years.
The Guinness Book of Records reports Brian's piece as the largest, longest and most challenging symphony ever composed. Wikipedia, though, cautions: "Sorabji's unperformed No. 2 and Dimitrie Cuclin's unperformed No. 12 are claimed as longer." But I digress.
Produced by Veronica Fury and directed by Randall Wood, The Curse of the Gothic Symphony tells the story of Brian's life, his cursed symphony, and those brave Australian souls who attempted to break the curse.
After a very small number of British productions of The Gothic, a curse was attributed to it because of the symphony's demands.
Brian's composed work features:
Two hundred orchestral players
Five hundred choristers
Four brass bands
A children's chorus
Four solo singers
A large concert organ
A thunder machine
A bird scarer
And, finally, The Curse
Aside from Brian, the film's central character is Gary Thorpe, a Brisbaner who had been pitching a production of The Gothic there for 28 years. Filmed over a five-year period, The Curse of the Gothic Symphony follows Thorpe and a few key players as they struggle with the symphony and its curse to produce the first performance of the symphony outside of the United Kingdom.
Although the symphony's production team was unable to utilize all of Brian's musical elements listed above, they followed the 'spirit of the law,' if not the letter. And in doing so they produced a one-time musical triumph. It is a testimony to Thorpe's passion and persistence that the film's producer, Veronica Fury, 'crossed the line' and became an executive producer of the symphony's performance. Fury, in front the camera now, has the requisite meltdown of frustration and discouragement as the Curse infects her.
Woven throughout this contemporary story is an outline of Brian's life – an outline that begs its own documentary. Director, co-writer, and cinematographer Randall Wood playfully adds dark, ominous, gothic graphics to his film with music by… well, you can guess who wrote the music.
This is a fun documentary film. I had fun with the playful aspects of its tone, fun learning about this legendary composer, and seeing this epic struggle to get all the kids together and put on an ultimately triumphant show.
I warned you. Now that you've read this review, the only way you may be released from the Curse is to see the film.
http://www.gothicsymphonythemovie.com.au/