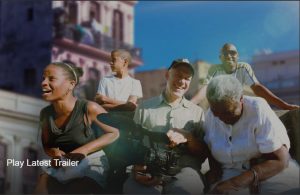 Beginning in the early 1970s, prolific, well-lauded filmmaker Jon Alpert frequented Cuba with one of the earliest versions of a small, professional video camera/recorder. His focus was on the people—and Fidel. For forty-five years, Alpert was given seemingly unfettered access to Castro. The socialist dictator and the American media producer became fast friends.
Alpert also became friends with several salt-of-the-earth Cubans. With each journey south from New York he would visit—or, at least attempt to find—his group of friends.
Alpert and company wove this massive amount of footage into a two-hour documentary diary of the filmmaker and the country. The richness and charm of Alpert's film are found in the eyes, voices, and stories of the many Cubans the filmmaker befriended—including Fidel.
Cuba and the Cameraman is distributed exclusively by Netflix.