CRUDE is accomplished and prolific filmmaker Joe Berlinger's coverage of an ongoing, epic struggle for justice of 30,000 Ecuadorians with oil-giant Chevron.
A portion of Ecuador the size of Rhode Island was virtually invaded by Texaco – with complicity of the Ecuadorean government – in 1964.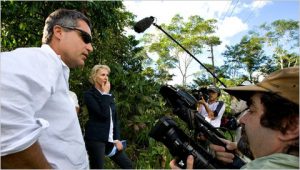 Decades of environmental destruction of this pristine land ensued. Indigenous people became sick, died, and were forced to abandon their land and culture. Litigation against Texaco (which was subsequently merged into Chevron) began in 1993.
Berlinger's film covers five years of this struggle for justice. His cameras follow the story across the United States, a brief visit to London, and, of course, Ecuador. Two protagonists emerge: Pablo Fajardo and Steven Donziger. Fajardo grew up in poverty in the Amazon, witnessing the devastation, became a lawyer, and the lead attorney for the 30,000 plaintiffs in their 27 billion dollar suit against Chevron. His personal story is the most dramatic as we follow him from his humble home and grueling work to international environmental stardom.
Donziger is a consulting attorney for the plaintiffs. It is by Donziger's doing that this film was produced. He approached a skeptical Berlinger, asking him to return to his documentarian roots to make this film. Donziger is the epitome of a street-wise, world-weary altruistic attorney.
Berlinger includes interviews with Chevron spokespeople. In addition to satisfying the fundamental journalistic virtue of presenting two sides to a story, the spokespeople's utter denial of responsibility heightens the horror and outrage we feel in the light of the Ecuadorians' suffering and loss.
If this oil giant, awash in hundreds of billions of dollars – or more – of profit is not responsible, who is?
I'm reminded of a verse from The Rolling Stone's "Sympathy for the Devil":
"I shouted out,
'Who killed the Kennedys?'
When after all
It was you and me."
There is no end to this story. We leave the theater, television, computer, or portable digital device sadder but wiser.
"CRUDE" is the penultimate classic story of people and their environment versus Big Energy.
http://www.crudethemovie.com