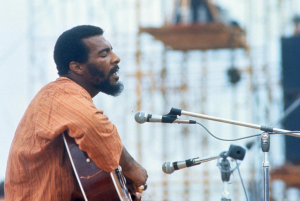 "It's a singular event in history."
Arlo Guthrie
In Mike Richards' Creating Woodstock 22 performers and business people share their experience of the creation of the three-day concert called the 'Aquarian Exposition: 3 Days of Peace & Music.' The producers and staff recount both the ups and downs, of course, and the seemingly countless barriers to the festival even occurring.
The plan was for an audience of 100,000. People, however, turned the festival into a free concert when 350,000 more people arrived. Consequently, the festival started in chaos with the only performer festival personnel could find on hand—Richie Havens—who, without even an announcement, was practically pushed on stage. Over two and a-half hours Havens played every song he knew. There were still no other performers available, so he performed a few encores ending with his creating and improvising the anthemic song, 'Freedom.'
There were countless barriers to the festival even occurring. For instance, New York's Governor Rockefeller was about to bust the festival using the National Guard. The producers convinced the Governor that the festival moving forward would be less problematic than the otherwise inevitable riot of 450,000 people with its likely injuries and probable deaths.
Or, when an agent from the New York State Health Department showed up unexpectedly to scour the entire site for health violations which would have been plentiful to find. The agent arrived at the production trailer with his 15-year-old daughter who promptly disappeared. Instead of inspecting, this young man spent three days looking for his hip daughter. One festival producer opined that this wayward teenager may have single-handedly saved the festival.
In my opinion, what did save the day was the festival producers who had a very specific approach to their production—peace and trust in this mass of young people. Having seen 1970's iconic documentary film, 'Woodstock,' and now this behind-the-scenes documentary, I can vouch for the wisdom of that approach.
The film's DVD contains the following Bonus Features:
Arlo Guthrie Walks on Stage, Grateful Dead Do Over, Creating the Woodstock Posters, Concession Stands On Fire, and Off Duty Police on Working the Festival.
Creating Woodstock is a Cinema Libre production. See the film's website to learn how to find the film on streaming services.