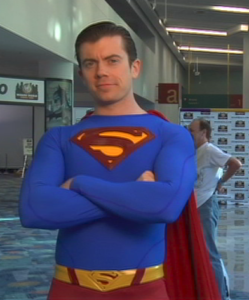 First time feature director Michael Valentine's Comix: Beyond the Comic Book Pages is a thoroughly engaging documentary about the worlds of comic books. Valentine interviews fans, writers, line drawers, colorists, a movie celebrity or two, and industry icons—including the icon of icons, Stan Lee—all talking about the fun, the power, and the history of this uniquely American art form which has conquered the world.
Being that this is a visual art in consideration, viewers are treated to a non-stop exhibition of comic book art along with the amateurishly- and professionally-wardrobed fans and presenters at their Mecca, Comic-Con International: San Diego.
Michael Crane's soundtrack perfectly captures the sense of drama and adventure associated with the books—their stories, and their fans.
The Kino Lorber DVD contains two discs: The feature along with plenty of bonuses; the second disc includes more interviews. The box also contains a mini-booklet of comic book art.