Laura Poitras's Citizenfour tells the harrowing story of Edward Snowden's release of highly classified U.S. government documents to journalists. The release was extensively covered by media in the United States and globally.
Poitras's widely acclaimed film is having an unusual release. It is both an HBO documentary, a theatrical release, and has already had broad exposure on the film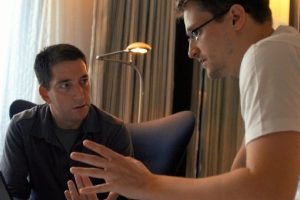 festival circuit.
Given all this, it would be unusual for any reader of this review to be unfamiliar with the film – let alone its topic.
Citizenfour is a masterpiece of documentary filmmaking. Despite knowing the story, the viewer is kept on the edge of their seat. Those seeing the film at home may find themselves clicking pause to read text on the screen, as well as repeating various segments of the film.
As I watched the story unfold, I was feeling and thinking about the bravery of all concerned in their actions taken on behalf of people who live in democracies which have become 'democracy' in name only. I also wondered at the massive amount of U.S. tax dollars spent in monitoring the interested parties, as well as the behind-the-scenes machinations at all levels of our federal government.
I'm becoming self-conscious of and somewhat embarrassed by using this phrase so often: This is a must-see film.
But, I mean it.
https://citizenfourfilm.com/