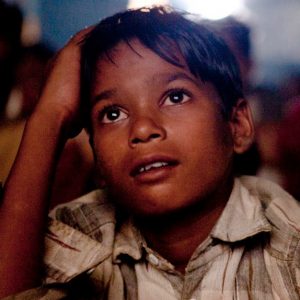 Mohammed runs a travelling movie theater in India. Prakash repairs 35mm film projectors—and has designed and built one of his own. These are the two principals in Shirley Abraham's and Amit Madheshiya's The Cinema Travellers. The two filmmakers hang out with Prakash, and follow Mohammed's theatre around India. They do not provide narration, none is needed.
Sometimes called 'Akshay Touring Talkies' or 'Sumedh Touring Talkies,' the entire theatre—including a very large tent—fits into a barely drivable truck. Everything in this traveling movie house is all rusted and dusty, worn and torn, crumbling, barely functional. But, it still works with the blessings of vibhuti and incense, turmeric and vermillion.
Loud speaker announcements of the evening's entertainment are blared throughout the day. After the tent is raised, and there is still plenty of day time, children gather, dance, and play in its abundant shade. The canvas covered theatre cannot protect its audiences from the occasional elements of wind and rain. Prakash's business, too, is victimized by rain and heat—invaluable 35mm prints are damaged beyond repair.
Prakash steals this entire show, though, as he emanates irresistible charm when speaking of his work and the projector he designed.
The Cinema Travellers is a documentary about people who love movies, for people who love movies.