Mike Correll is a one-man-band filmmaker. He wrote, directed, shot, and edited Chet Zar: I Like to Paint Monsters—a biographical documentary about artist Chet Zar.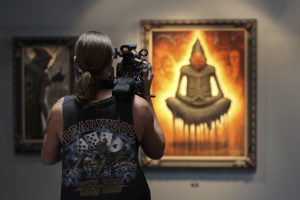 The film introduces the naive viewer to both Zar and 'The Dark Art Movement'—art with dark themes and images. Although there is no want of that kind of art, this movement focuses on phantasmagorical and horrific images—and Zar is a master of the genre.
Zar's life and background include a loving, supportive family, paranormal experiences from an early age, and an innate ability to draw and paint. His multi-faceted career includes many years working for the film and television industries as well as international success as a fine artist.
The film is enlightening and engaging, and the First Run Features DVD contains a plethora of special features including extended interviews, deleted scenes, a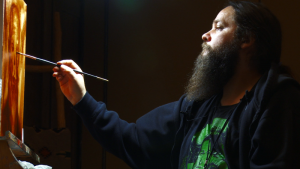 'gallery' of Zar's art, behind-the-scene featurette, time-lapse images of the creation of six paintings, official trailer, and 'Rick Zar: Live Neon.'
Zar and Correll are working on a book about Zar's art. They have a Kickstarter campaign. I encourage readers to pass it on. They are both deeply talented artists worthy of support. Here's the campaign.