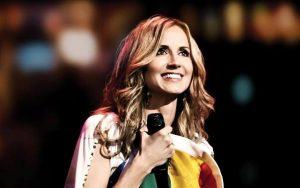 Not being connected to the worlds of pop culture or country music, I'd never heard the name, 'Chely Wright.'
Sitting in a stack of two dozen documentary screeners all waiting to be viewed and reviewed was this screener with the title, Chely Wright: Wish Me Away; and at the top of the case the words: 'A Nashville Star Comes Out And Finds Her True Voice'.
My attitude was cavalier, nonchalant—just another gay-related story. But I put the disc in the Blu-ray player and pressed play—simply because I'd seen enough downer docs recently and needed a break.
And I got one.
Wish Me Away is so powerfully produced that the movie transcends its subject matter. Yes, discrimination based on sexual orientation is finally receiving the attention it needs and deserves. And, yes, a country music icon coming out is a big story—one that requires its hero to possess many noble qualities, and subjects [your favorite pronoun] to guaranteed attacks and rejection.
What is most powerful about Wish Me Away, though, is how revealing Chely Wright is about herself and her life, and how respectfully and masterfully filmmakers Bobbie Birleffi and Beverly Kopf tell Wright's story.
Wish Me Away is one of the best documentary films I've seen. Unless you have the proverbial 'heart of glass,' this movie will touch you fully and deeply—pretty much from beginning to end.