Directed by Jeff Orlowski, Chasing Ice is the best-produced and most important environmental documentary since Al Gore's An Inconvenient Truth. Orlowski tells two stories here: The life and work of celebrated photographer James Balog and the melting of our Earth's ice caused by massive amounts of man-made carbon dioxide emissions.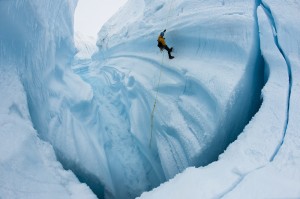 Initially a global warming skeptic, Balog brought his finely-honed photographic skills to bear as he created the Extreme Ice Survey, a project which is documenting the melting of ice across our planet.
Balog's images are as jaw-dropping as are the courage he epitomizes and sacrifices he makes capturing beatific, tragic images of ice and its melting. Orlowski's cinematic skills mirror Balog's skills, courage and indomitable spirit, as he covers Balog's work in treacherous circumstances.
http://www.chasingice.com/
http://extremeicesurvey.org/