'In May 2011,' the film begins, 'John Casablancas met his friend Hupert Woroniecki in New York City. They spent three days locked in a studio and recorded his life story. What neither knew at the time was that John would die of cancer two years later, in 2013—making this recording a unique posthumous testimony on one of our most glamorous eras.'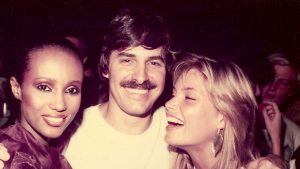 Casablancas is an autobiography of John Casablancas who founded the legendary model agency Elite. Although a character study—which is, ideally, intrinsic to autobiography—the theme, physical beauty, is the seemingly polar opposite of a noble human character.
Those of a certain age may remember a 1960 episode of the nascent 'Twilight Zone' entitled Eye of the Beholder. A woman is lying in a hospital bed, in a dark hospital room. Her face is covered in a white cloth dressing. In a desperate attempt to look beautiful—or at least normal—she just had her 11th plastic surgery. This is her last chance. The story's dialog between patient and care-givers focuses on her desperation, the tragedy of the hideous face with which she was born. When the cloth dressing is removed she is grief stricken, the surgery failed. In the requisite Twilight Zone ironic, painful twist, the camera reveals a beautiful woman, and the faces of those 'normal-looking' caregivers are hideous, ghoulish.
John Casablancas was born into wealth, and provided a seemingly idyllic education filled with beautiful girls, skiing, soccer, and international travel. His first attempt at any sort of occupation was to join the United States Marines. He was dismissed, of course, at the outset. He then speaks of the sequence of events that led to the founding—and initial floundering of—his company, Elite Model Management.
Casablancas took to that business like the proverbial duck-to-water. He was an effective competitor. So much so that all the U.S. major management agencies united to sue him based on various allegations regarding business practices. The suits—also known as 'model wars'—took two years to litigate, and gave Elite priceless publicity. On his path to industry dominance, Casablancas became a media darling seen on the cornucopia of television talk shows in North America and Europe.
I was engaged, moved by this character and his story—the exceptional success and pleasures he enjoyed, and the unending conflict he experienced between living the life of family man, and the life of a playboy ensconced in the upper socio-economic strata of Western society. Some may mock the implied pain of this conflict. I do not measure emotional pain.
Stories about womanizers provoke thoughts and passionate discussions of ethics and morals. Whatever your standards, this film leaves the viewer with a few images and stories of a life well-lived without apologies—and that one unavoidable regret.
Casablancas is a First Run Features release.