'capital' — the wealth–whether in money or property–owned or employed in business by an individual, firm, corporation, etc.'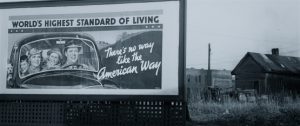 Directed by Justin Pemberton, and based on Thomas Piketty's book, Capital in the Twenty-First Century, the documentary Capital in the Twenty-First Century is a history of wealth and its relationship to social progress and social justice. (Please note that as of this posting the above link brings the reader to the only formal website available for the film–Japanese. However, in the upper-right hand corner of the site is the English language option.)
Although the film's subject matter may seem dry, this film is anything but. Pemberton and company have produced an exceedingly well-done film rich in imagery (and that is an understatement), information, ideas, and music.
The film's temporal scope begins in opulent 18th century Europe, and takes us through to our 21st century—with glimpses into the future. Eight interviewees tell the story in plain English some of which is found in the subtitles—Piketty speaks French.
Capital in the Twenty First Century is an utterly sensational documentary. Yours truly has viewed the film twice, so far.
A Kino Lorber release, the DVD or Blu-ray Disc includes the following bonus features: Interview with director Justin Pemberton / Theatrical trailer / Deleted Scene / Interview with producer Matthew Metcalfe / The New Republic Roundtable moderated by Chris Lehmann, TNR Editor
With theaters closed due to the COVID-19 pandemic, this film will be released in "virtual cinemas" supporting independent art houses. Click here to learn more and find a theater near you to support.
Here is a list of interviewees' names in the order of their appearance:
Thomas Piketty, Professor of Economics at the School for Advanced Studies in the Social Sciences (EHESS), Associate Chair at the Paris School of Economics, and Centennial Professor of Economics in the International Inequalities Institute at the London School of Economics.
Prof. Kate Williams, Historian, University of Reading
Suresh Naudum, Economic Historian, Columbia University
Bryce Edwards, Political Analyst and Commentator
Rana Foroohas, Global Economic Analyst
Prof. Joseph Stiglitz, Economist, Columbia University
Ian Bremmer, Global Risk Advisor
Prof. Francis Fukuyama, Political Economist, Stanford University
_________________