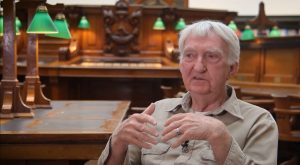 "I know art has power, and I am absolutely convinced that although a painting will never stop a bullet, a painting can stop a bullet from being fired."
William Kelly
Directed by Mark Street, and produced by Fiona Cochrane, Can Art Stop a Bullet: William Kelly's Big Picture tells the story of Kelly's creation of his collage-based installation Peace or War/The Big Picture in Australia's State Library Victoria.
The collage consists of works by a number of artists and others addressing the crucial issue of violence versus peace. The art contains no explicit images of war or violence. Instead, Kelly sought images which contain point and counter point between the idea of the peace that some of us are able to live in generally, and the war and violence which others are suffering—with the aspirations that we will be able to bring a bit more harmony into the world.
Kelly is the host of the film, and in telling the story of this work we hear from a large number of people from many places speaking their thoughts on war, violence, and peace. Below is a list of the people who present on camera.
Can Art Stop a Bullet: William Kelly's Big Picture is a quietly spectacular film that deserves a massive audience.
PRESENTERS
Raymond Watson, artist IRA, 12 years imprisoned
Rita Duffy, artist
Maze Prison – County Down, Northern Ireland
Halina Wagowska, Author, Activist, Holocaust Survivor
Mikael Levin, Artist
Sarah Sentilles, Author, 'Draw Your Weapons
Professor A. C. Grayling, Philosopher
Nick Ut, Photographer
Professor Sasha Grishin AM, Art Historian and Curator
Martin Sheen, Actor/Activist
Professor Ian McLean, Art Historian
Ben McKeowm, Atist
J. D. Mittmann, Curator, Blackmist Burnt Country Exhibition
Rosemary Lester, Anti-Nuclear Activist
Dr. Tilman Ruff AM, Co-Founder, International Campaign to Abolish Nuclear Weapons (ICAN) Nobel Peace Prize Winners
Yukinori Yanagi, Artist
Don Brown, Film Translator
Emiko Okada, Hiroshima survivor/Peace Activist
Kiyomi Kohno, Hiroshima survivor/Peace Activist
Luis Iriondo, Artist survivor of the bombing of Gernika
Iratxe Momoitio Astorkia, Director, Gernika Peace Museum Foundation
John Keane, Artist
Peter Sparling, Dancer/Choreographer
Denise Navarrete, The Facing History School
Emerald O'Shaughnessy, Artist/Director, ArkT Arts Center, Oxford, UK
Michael Diaz, Teacher, The Facing History School
Wendy Flores, The Facing History School
Jayson Rivera, The Facing History School
Chaz Young, The Facing History School
Rokhayatau Ndiaye, The Facing History School
Emma Gonzales, Parkland High School Student
David Hall, Parkland High School Student
Zakia Bassou, Co-Founder, 1000 Roses, London
Cocovan, Artist
Francesco Pisano, United Nations Library, Geneva
Dr. Rama Mani, Founder, Theater of Transformations