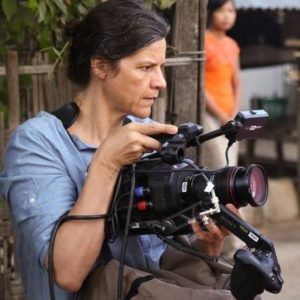 Cameraperson is a unique documentary film consisting of clips from superstar documentary cinematographer Kirsten Johnson's 25 years of work. The multilayered film is carefully crafted, and functions as travelogue, memoir, and philosophical statement on the relationship between filmmaker and subject.
The film takes the viewer around the world, and balances the mundane with the intimate and horrific—the inevitable experiences of a talented and prolific documentarian. Cameraperson deserves the attention and countless lauds it has received. Its images and subjects are unforgettable.
The film is available as a two-disc box set with a booklet which features an essay, 'Getting Close' by Michael Almereyda.
Disc two contains these special features:
• Editing "Cameraperson"
• In the Service of the Film
• Festival Talks
• "The Above"—a short documentary film by Johnson
I highly recommend seeing Cameraperson in this two-disc format.
Johnson's career is far from over. Check out her IMDB profile.