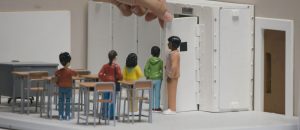 Director Todd Chandler opens his documentary film, Bulletproof, with sequences of high school students at school, participating in normal activities—band, cheerleaders, ROTC, kids in hallways, sports, acting and media classes. But, the very first normal activity Chandler presents is a very elaborate active shooter/lockdown drill—the new normal in schools of the United States of America, along with school staff monitoring various and sundry threats of violence by students, hi-tech cameras in the hallways, metal detectors, stress reduction classes, and, of course, arms kept in locked safes, with some staff members trained to shoot. But wait, there's more. We also pay a visit to a commercial exhibition of products designed to prevent and/or respond to student threats and shootings.
Of all this coverage of the new normal horrors of school shootings, the one that got me the most was Vy Tran's cottage industry of making bulletproof hoodies. The event that fostered her work was the senseless killing of a wife and mother who lived right next door. We first see Tran working in her lower-middle class home.
A San Francisco bay area tech worker, Tran made the first two 'Wonder Hoodies' for her mother and brother. When she received her first order, she immediately postponed her Masters degree program, and joined the American Dream club when she sold her business which now manufactures under the name, Wonder Hoodie Bullet-Proof NIJIIIA.
Bulletproof is very well produced, features a beautiful soundtrack, striking images, was an 'Official Selection' of at least 15 film festivals, and is the winner of hotDocs' Emerging International Filmmaker Award, 2020.
'Bulletproof' is distributed by Grasshopper Film.
(Photo courtesy of 'Bulletproof')