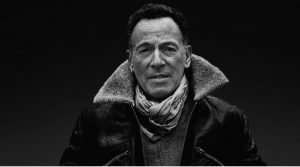 "The E Street Band is a finely tuned instrument of great flexibility and power. They can float like a butterfly and sting like a bee. Our years of playing together have created a shorthand and efficiency in the studio comparable to a finely tuned racing engine. We are a unit 45 years in the making, decades in the refining—and we bring that power to bear when we engage with you. We perform in service to our audience. The pay is great, but you're the reason we're here. It is our commitment that hardens our purpose, our sense of do or die. E Street Band is not a job, it is a vocation, a calling. It is both one of the most important things in your life, and, of course, it's only rock 'n' roll."
Bruce Springsteen
The above text is the beginning of Bruce Springsteen's narrative of his life in music, with stories and thoughts expressed throughout Thom Zimny's masterfully produced film Bruce Springsteen's Letter to You.
The documentary includes ten new Springsteen songs from his latest album, 'Letter to You' recorded live—that is, there was no layering of instruments and voice tracks one by one. Instead, we are in the studio with Springsteen, his E Street Band musicians and producers, hearing the new songs as they can be heard on the released album. Between songs he tells his stories and expresses his thoughts about life. I humbly disagree, though, with Springsteen's 'it's only rock and roll.' For decades he has addressed existential issues the common person faces in their life in the United States of America. The film's black-and-white cinematography is exquisite.
Whether or not you are a fan, or even familiar with Bruce Springsteen's music, this is a stunning, powerful film that, ironically, leaves viewers in a quiet, contemplative mood.
Bruce Springsteen's Letter to You is an Apple TV+ release.