Breath Made Visible is a documentary film about dancer Anna Halprin.
I am biased. I have a tangential relationship with this documentary's subject.
I moved to San Francisco in 1975, right in the middle of the human potential movement's heyday. There were as many groups and methods of self-improvement and spiritual realization then as there are social networking websites now. Anna's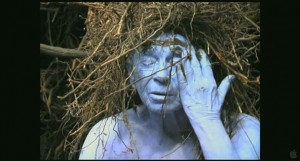 Dancers Workshop was one of my few groups.
I attended Dancers Workshop small groups and large public offerings – including a dance of several miles starting at Twin Peaks at dawn, through the City, ending at Justin Herman Plaza along The Embarcadero.
Anna also lives in my county, and I've met our local and international legend a few times shopping at Woodlands Market in Kentfield.
As much as possible I attempt to view all works of art through my own eyes – separating out what others say or have said about it. And in this case, that includes me. That is, I pretended I didn't know Anna, and viewed her documentary as such. I breathed a sigh of relief at discovering Breath Made Visible is an excellent portrait of the woman, a comprehensive outline of her rich life, and perfect introduction to her approach to dance.
It seems as if there are two primary phases to Anna's life with dance – her development and work as a professional dancer followed by her emergence as a dance teacher, philosopher, and leader. Her professional life took Anna around the world, performing dances that could be called avant-garde or experimental – breaking performance conventions. Propelled, in part, by her husband Lawrence Halprin, Anna immigrated west, settling down in Marin County, and doing her work in the San Francisco Bay Area.
Produced and directed by Swiss filmmaker Ruedi Gerber, Breath Made Visible is full of Anna, her life, her thoughts, her family, her work, her passions, and plenty of dance performances – all gracefully woven together by Gerber.
My favorite dialog in the movie is:
Int, Day. Large, bright, open public space. People are moving through it. Anna is directing them. She notices and walks up to a man watching the performance.
ANNA
We're giving a performance. This is Anna Halprin's group. We're doing this amongst the audience, before they go in.
MAN
I've heard of Anna Halprin, but I haven't seen any of her works.
ANNA
I'm Anna Halprin.
MAN
Oh, you are!
ANNA
Yeah, hi.
(They shake hands.)
MAN
You're… they said she was real old.
ANNA
I am real old. I'm 86.
MAN
Damn, you don't look 86.
ANNA
Well, I am.
MAN
I guess it shows what dancing does.
ANNA
I guess so. (She laughs.)
(Scene)
Anna was born in 1920, and she is still very much with us.
http://www.breathmadevisible.com/