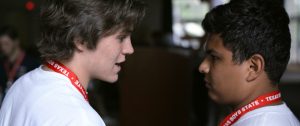 From the film's introduction: "(Political) parties are likely to become potent engines by which cunning, ambitious, and unprincipled men will be enabled to subvert the power of the people and to usurp for themselves the reins of government."
George Washington, 1796
Context from Wikipedia: American Legion Boys State and American Legion Auxiliary Girls State are summer leadership and citizenship programs for high school juniors, which focus on exploring the mechanics of American government and politics. The programs are sponsored by the American Legion and the American Legion Auxiliary respectively. Boys and girls are usually nominated by their high school during their junior year. Boys and Girls State programs both began in 1937, and are held in each of the U.S. states (except Hawaii where there is only a Girls State program), usually at a college within that state. There is also a Boys State session held in Washington, D.C. In general, male and female programs are held separately, but at least seven states—Georgia, Nebraska, Oregon, Louisiana, Massachusetts, Pennsylvania, and Rhode Island—host Boys and Girls State on the same campus on the same week.
Produced and directed by Amanda McBaine and Jesse Moss, Boys State follows the proceedings of the Austin, Texas-based six-day, 2018 'Boys State' program.
Eleven hundred 'Statesmen'—male high school juniors—are randomly assigned to competing faux political parties: Federalist and Nationalist. Each party elects their own leadership, forms their own platform, and nominates candidates for municipal officials, for State leadership positions, and Governor to compete in elections.
This year the boys chose gun rights, reproductive rights, racism issues—and, of course, there was plenty of in-fighting within and between the two Parties. The film captures the particular culture formed during this week, and focuses on the competition for leadership positions with the climatic voting for Governor.
The world of Boys State is as hopeful as it is chilling. There is wanton self-serving power juxtaposed with sincere motives to make a positive difference in the lives of American people. In any case, though, the 1,100 students have been introduced to the upside, downside, and challenges of competing for the obligations and privileges of public service in the realms of political power.
Distributed by AppleTV+, Boys State is expertly produced, and will have viewers thinking and talking about the boys we see and hear. The film provokes viewers to consider their own thoughts and feelings regarding the political world we live in now—as well as the hopes and concerns for these young people who will place themselves in the halls of power.
Boys State won at least four 2020 film festival awards including 'Grand Prize Winner, Documentary' at the Sundance Film Festival.
(Photo: Robert MacDougall and Steven Garza confronting in Boys State. Courtesy of AppleTV+)