When Urs Schnell's documentary, Bottled Life: Nestle's Business with Water, was released in 2012, it was a very timely film. Now, near the end of 2018, it is even more timely.
Schnell, in partnership with Swiss journalist Res Gehriger, examines Swiss-based Nestle corporation's international securing and marketing of clean water.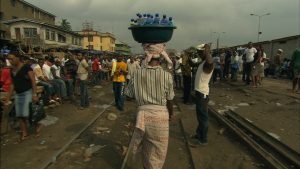 The issue of human beings' access to clean water is, of course, one that transcends any one company or nation. But every good story needs a good bad guy, and Schnell and Gehriger could not have picked a better bad guy. Nestle is the global leader in bottled water.
The Nestle bad guy incarnate—as of the film's production—is CEO Peter Brabeck.
Although Nestle avoided contact with the filmmakers, Brabeck appears throughout the film in public presentations. That's all that was needed. His finely sculpted words justify the company's exploitation of human beings' need for water—as well as the concomitant massive injection of toxic plastics into our environment. Yet Brabeck oozes words that paint a heart-warming picture that he and his well-paid team care about human beings and our environment.
When not in Switzerland, Schnell and Gehriger cover water issues in communities in the United States, Nigeria, and Pakistan. These regions are, of course, representative of human populations and water struggles around the globe.