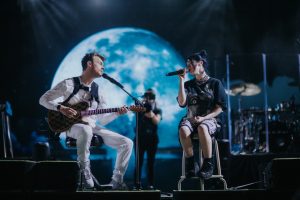 "I honestly don't know how any artist of any age with this kind of [meteoric] trajectory is doing it without a parent—someone who loves you more than life itself, and would do anything for you…"
Maggie May Baird
Billie Eilish's mother is reflecting with empathy and concern about the plight of young people who find themselves in the midst of show business success, but lack the experiences of having been raised by mindful and compassionate parents. Thank goodness Billie has those kind of parents.
Prolific filmmaker R.J. Cutler has given us Billie Eilish: The World's A Little Blurry a profile of the pop superstar and the loving family that has so carefully nurtured their daughter. Cutler's 140-minute documentary follows Billie and family through the singer/songwriter's 17th year of life. His camera does more than just tell the story. Cutler's ears, eyes and heart evoke the vulnerable humanity of the members of this family. This is a rare and admirable skill that makes for a thoroughly engaging film irrespective of the viewer's ignorance—mine, for instance—of our Hero
Eilish has the best music partner a superstar can have—her brother Finneas O'Connell who writes and produces with her, as well as accompanies her on tours working behind the scenes, and on stage performing with his sister. Both Eilish's father, Patrick O'Connell, and mother Maggie May have mainstream acting resumés. And let's not forget Eilish's dog Pepper who appears in shots peppered throughout the film.
Distributed by Apple TV+, Billie Eilish: The World's A Little Blurry is a spectacular documentary film that deserves a huge audience and countless lauds.