Well, I can't compete. I can't put the introduction to this film more succinctly than the film's DVD case: "Winner of 20 festival awards, 'Bidder 70' is Tim DeChristopher, the student who monkey-wrenched the 2008 fraudulent Bureau of Land Management Oil and Gas Lease Auction. Bidding 1.8 million to save 22,000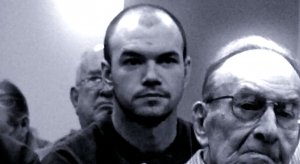 acres of pristine Utah wilderness surrounding Arches and Canyonlands National Parks, with no intention to pay or drill, Tim brought the BLM auction to an abrupt halt. A month later, Barack Obama became President, and on February 4, 2009, new Interior Secretary, Ken Salazar, invalidated the entire BLM auction."
Produced and directed by Beth and George Gage, Bidder 70 follows the subsequent events beginning with DeChristopher's indictment on two federal felonies. Those events include the formation of community groups in support of DeChristopher's actions and values, and, of course, the trial in which the judge denied the jury a substantial amount of exculpatory evidence.
But the main event is our witnessing the birth of a powerful and inspiring environmental activist.
One of the most poignant moments for yours truly was when Stanford Professor and Nobel Prize winner Terry Root appears on screen with DeChristopher discussing a conclusion that, "the IPCC (http://www.ipcc.ch/) couldn't find any possible scenario in which we avoided all the worst-case consequences of climate change."
As someone who has been casually and distantly observing ecological destruction, it was cold comfort to have my similar conclusion validated by such an authority.
Thank Goddess, rather than deter him, that information inspired DeChristopher. He responded to a large group of people, "To have a Nobel Prize winner say that it was too late for me to protect my own future, it shook me to the core. I went outside the hotel and I cried. I mourned for my own future. I mourned for the future of all of us. But afterwards, what kept me going was the idea that there was still a chance, and that maybe if none of the political plans on the table, if Barack Obama's plan is not good enough, then we'll have to find another way. We'll have to break out of the political system that we're in and find a new path forward. And that's really the task before us. (pause) Sorry. I get a little emotional."
Kudos to Gage and Gage for making an invaluable contribution to our public dialog on our environment—and for including Closed Captioning in their film!
http://www.bidder70film.com/
http://www.peacefuluprising.org/